Bombardier hit by tariff in Boeing row
The US Department of Commerce has ruled against the aerospace firm Bombardier in its dispute with rival Boeing.
An interim tariff of 219.63% has been proposed on the import of Bombardier's C-Series jet to the US.
Boeing had complained Bombardier got unfair state subsidies from the UK and Canada, helping it win a major order.
The government and trade unions fear it might even make Bombardier question remaining in Northern Ireland, where it employs 4,100 people in four locations.
The case will now be considered by the US International Trade Commission for a final ruling in February.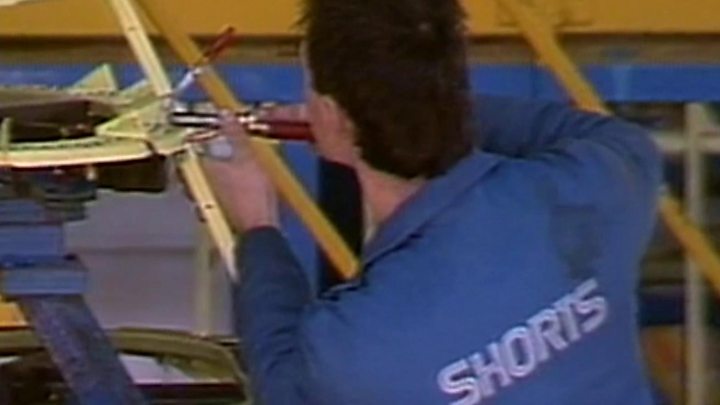 "The U.S. values its relationships with Canada, but even our closest allies must play by the rules.
"The subsidization of goods by foreign governments is something that the Trump Administration takes very seriously," the Secretary of Commerce, Wilbur Ross, said.
There are fears the ruling will jeopardise a major order made last year from US airline Delta – a $ 5.6bn (£4.15bn) deal for up to 125 of the jets.
About 1,000 jobs at the company's Belfast operation are linked to the C-Series, where the wings of the jet are made.
Bombardier – which bought Short Brothers in 1989 – is one of Northern Ireland's largest employers.
Jimmy Kelly, Unite Regional Secretary said the decision to impose a tariff posed a "direct and very serious threat to the 4,500 Bombardier jobs in Belfast" and many more dependent on the company.
The programme is not just important to Bombardier jobs in Belfast, but also 15 smaller aerospace firms in NI – and dozens more across the UK – which make components for the wings.
The Northern Ireland Executive and UK Government pledged to invest almost £135m in the establishment of the C-Series manufacturing site.
The programme received £750m from Quebec's provincial government in 2015 when its fortunes appeared to be ailing.