Cladding fire tests failed by 27 high-rise blocks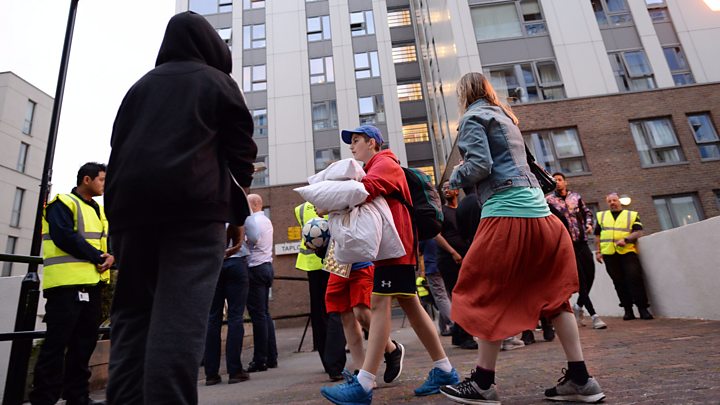 Cladding on 27 tower blocks in 15 council areas in England has failed fire safety tests, the government says.
This comes after Camden Council became the first authority to evacuate residents over fire safety concerns, asking people living in four high-rise buildings to leave late on Friday.
The council said it had no option but to move the residents of 650 flats, while work is carried out.
But 83 have so far refused to leave their homes on the Chalcots Estate.
The council's Labour leader, Georgia Gould, said the council had acted "as swiftly as we possibly can" to ensure people's safety.
Ms Gould said the fire service "told us they could not guarantee our residents' safety in those blocks".
"I know it's difficult, but Grenfell changes everything and I just don't believe we can take any risk with our residents' safety and I have to put them first.
"I offered to pay for fire stations to be stationed outside all of those blocks so we could have a couple of days to get the work done but the message was there was absolutely nothing I could do to make those blocks safe that night."
She said that if people still choose to not leave their homes then it would "become a matter for the fire services".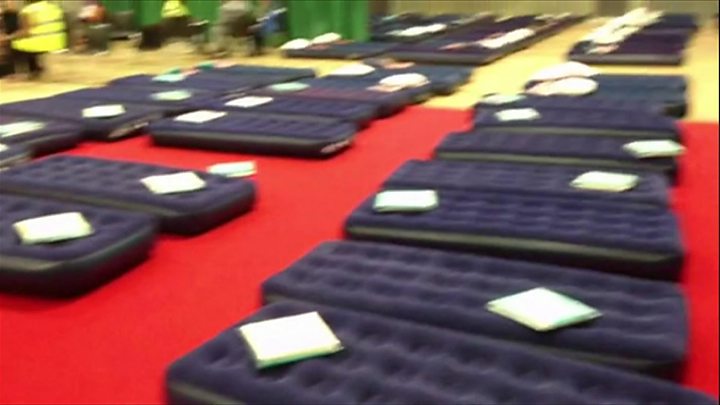 Other high-rise buildings, such as some used by the NHS, are also being tested.
The estate's cladding is similar to Grenfell Tower in west London, where a fire is feared to have killed 79.
The Metropolitan Police say manslaughter, health and safety, and fire safety charges will be considered in relation to that blaze.
Chalcots was refurbished between 2006 and 2009 by the same firm, Rydon, that oversaw work at Grenfell Tower in 2015-16.
Camden Council says it will remove external thermal cladding from five tower blocks on the Chalcots estate.
It also said there were concerns about the insulation of gas pipes going into flats, and fire doors.
The council initially announced the evacuation of one tower block, Taplow, but later extended the move to all five tower blocks it had checked.
In the early hours of Saturday morning, the council then announced that one of the five – Blashford – did not need to be evacuated, and residents could return, because it is smaller and has "several different design elements".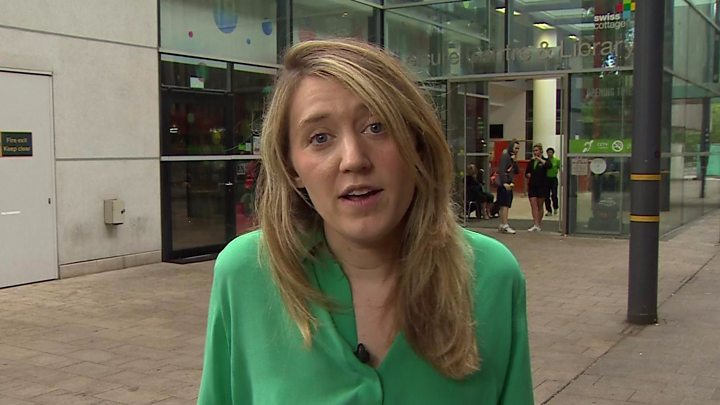 The council has secured 270 hotel rooms so far. Emergency accommodation was set up at Swiss Cottage leisure centre and at the Camden Centre in King's Cross.
"We're encouraging all residents to stay with friends and family if they can, otherwise we'll provide accommodation," the council said.
The decision to evacuate the buildings was made at 18:30 BST on Friday.
The work is expected to take three to four weeks. Residents will be allowed in at the weekend to collect more possessions under escort from the fire brigade.
---
How the residents reacted
Teacher Kim Price, who lives in Blashford tower with her 14-year-old son, said: "We've had two letters in two days saying 'you're not safe' then 'you're safe'. I don't really know what to do."
Edward Strange said the evacuation was a "complete overreaction", given that two previous fires in the block were easily contained. "I've got a young daughter, a wife and a cat, I've also got a job. They said it'd take four to six weeks. If the council says four to six weeks it'll take four to six months."
Peter Bertram, 94, who has lived on the estate for 46 years, said: "My neighbour told me 'Get this and that'. It happened so quick, I don't have the energy for that now."
Confusion as evacuation begins
---
Bob O'Toole, chairman of Chalcots Estate residents' association, told BBC Breakfast that contractors had been working overnight in several of the tower blocks.
"A lot of people are annoyed because of the way [the evacuation] was done. They're saying it was left too late in the evening. But Camden Council didn't get the information till late, and they acted on that as quickly as possible."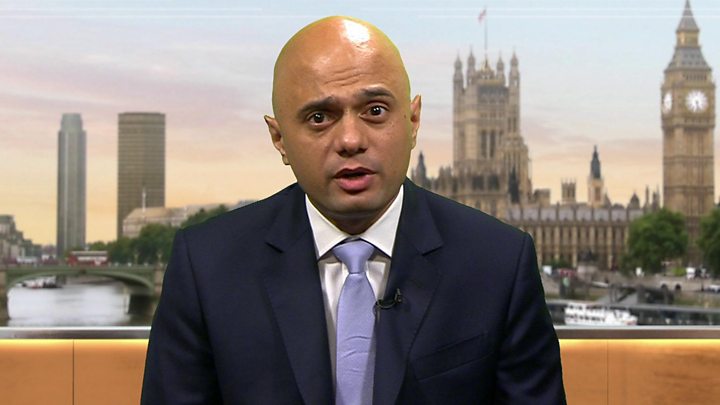 Communities Secretary Sajid Javid said the local fire service for the Chalcots Estate found multiple other failures in fire safety and, as a result, had made "this quite correct decision".
"Public safety is absolutely paramount, you cannot put a price on people's lives. So local authorities have to do whatever it takes to get their buildings safe."
Rebecca Long-Bailey, the shadow business secretary, said people who were in towers where cladding was being investigated would be "living in fear".
"People need to give significant weight to the voice of residents, and if they do want to be moved, if they feel unsafe and haven't been reassured, then provision should be put in place [to move them]."
Camden Council agreed a contract with Rydon Construction to refurbish the Chalcots estate in May 2006 at a cost of £66m.
The work took more than three-and-a-half years. Five towers received new cladding and 711 flats were modernised with new wiring, heating, kitchens and bathrooms.
Friday night's announcement came as the Metropolitan Police said the Grenfell Tower fire started in a fridge-freezer, and outside cladding and insulation failed safety tests.
A national operation to identify buildings with cladding similar to that used in Grenfell Tower has seen local authorities send samples for independent tests.
The Department for Communities and Local Government said 14 residential high-rise buildings in nine local authority areas have now been found with cladding that raises safety concerns.
---
Do you live in one of the affected tower blocks on the Chalcots estate in Camden Council? Email us at haveyoursay@bbc.co.uk
You can send your pictures and video to yourpics@bbc.co.uk
You can also contact us in the following ways:
Tweet: @BBC_HaveYourSay
WhatsApp: +447555 173285
Text an SMS or MMS to 61124 (UK) or +44 7624 800 100 (international)