Heterosexual couple lose civil partnership challenge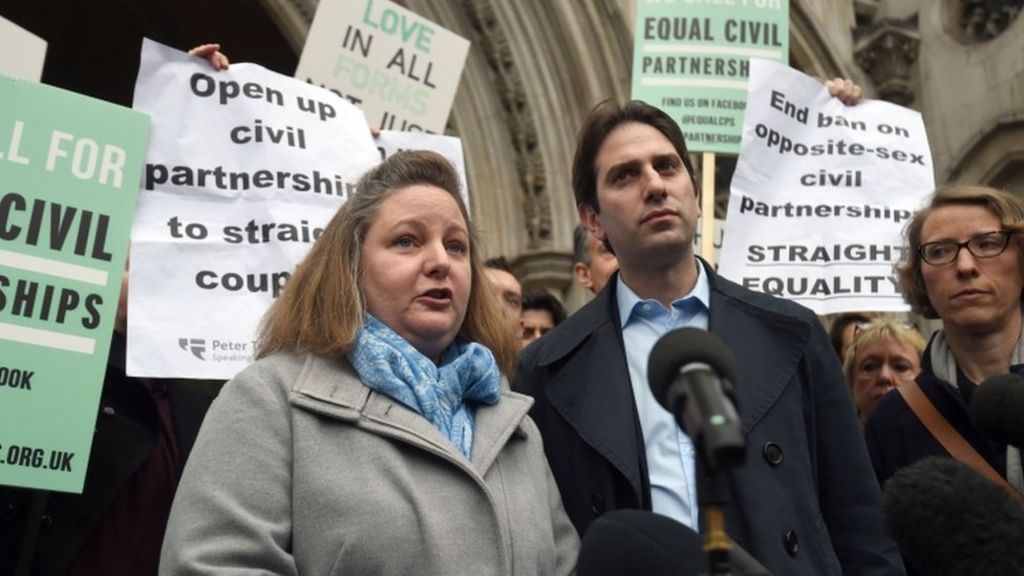 A heterosexual couple have lost their Court of Appeal battle to have a civil partnership instead of a marriage.
Rebecca Steinfeld and Charles Keidan, from London, challenged a ruling that said they did not meet the legal requirement of being the same sex.
The judges said there was a potential human rights breach but the government should have more time to decide on the future of civil partnerships.
The couple said there was still "everything to fight for".
They intend to appeal to the Supreme Court.
The BBC's legal affairs correspondent Clive Coleman said the couple had lost by the "narrowest of margins" as all three judges accepted that there was a potential breach of their human rights.
Our correspondent said: "The government's 'wait and see' policy, which is based on looking at the take-up of same-sex civil partnerships, was found by Lady Justice Arden not to be not good enough to address the discrimination faced by heterosexual couples.
"However, her fellow judges were prepared to let the government have a little more time and so the case was lost on that issue alone."
'Long overdue'
Ms Steinfeld, 35, and Mr Keidan, 40, want to secure legal recognition of their seven-year relationship but do not consider marriage suitable for them.
The couple, who have a 20-month-old daughter, have said they want to formalise their relationship within a social institution "which is modern, which is symmetrical and that focuses on equality, which is exactly what a civil partnership is".
"We lost on a technicality – that the government should be allowed a little more time to make a decision," Ms Steinfeld said.
"So there's everything to fight for, and much in the ruling that gives us reason to be positive and keep going."
Mr Keidan said: "The Court of Appeal has made it clear the status quo cannot continue.
"The government should now recognise the benefits of opening civil partnerships to mixed-sex couples.
"The measure is fair, popular, good for families and children, and long overdue."
Since the start of the couple's campaign more than 72,000 people have signed an online petition calling for civil partnerships to be open to all.
---
Civil Partnerships explained
Legally recognised union between a same-sex couple
Equal legal treatment in matters including inheritance and next-of-kin arrangements
Partnership can be conducted in private, whereas marriage ceremonies must be public and can be conducted by clergy
Failed partnerships require a legal dissolution, like divorce
Political, religious and social considerations influenced choice of the term "civil partnership"
Most campaigners accepted the title because they had secured the underlying rights
---
The Court of Appeal agreed the couple had established a potential violation of Article 14 of the European Convention, which relates to discrimination, taken with Article 8, which refers to respect for private and family life.
But, by a majority, the judges said it was at present justified by the government's policy of "wait and evaluate".
'Borrowed time'
The secretary of state for education, who has responsibility for equalities within government, said it had been decided, after public consultations and debate in Parliament, not to extend civil partnerships to opposite-sex couples, abolish them or phase them out.
The aim was to see how extending marriage to same-sex couples impacted on civil partnerships before making a final decision which, if reversed in a few years' time, would be disruptive, unnecessary and extremely expensive.
In the ruling on Tuesday, Lord Justice Briggs said he could "well understand" the frustration which must be felt by the couple and those who shared their views, about what they regarded as the government's slow progress.
"Some couples in their position may suffer serious fiscal disadvantage if, for example, one of them dies before they can form a civil partnership," he said.
But, like Lord Justice Beatson, he did not regard "micro-management" of the government's detailed thinking about the policy as part of the business of the courts.
All three judges agreed that the status quo could not continue indefinitely.
The government was on "borrowed time", Ms Steinfeld said after the hearing.
---
'Equality and choice'
Kate Stewart and Matthew Cole, 46, decided to get a civil partnership in Gibraltar, a British Overseas Territory, in June 2016, after deciding marriage was not for them.
"It just felt to be a more appropriate way to formalise the recognition of our relationship," said Dr Stewart, from Derby.
"I have been married before… but Matthew and I didn't feel that marriage reflected our relationship.
"The institution [of marriage] is very much unequal depending on your religion.
"We therefore felt it wasn't a status we were comfortable with because it still had hangovers of inequality from the past."
Dr Stewart, 48, said although they believe marriage is right for some couples, it was about having the choice.
They wanted recognition of their relationship after 10 years together.
But their civil partnership is not legally recognised in the UK.
"We paid for ceremony in pounds, we have a certificate, it was all very British, but as soon as we were back home we didn't have legal recognition," Dr Stewart said.
"The declaration that we were both each other's partner was quite moving… we were on an equal footing. It was surprisingly touching."
Why choose civil partnership over marriage?
---
Ms Steinfeld and Mr Keidan, who live in Hammersmith, west London, originally applied for notice to form a civil partnership in 2014, but were turned away by the registrars.
In the same year, the Same Sex Couples Marriage Act extended the right to marry to gay couples in England and Wales, who can now choose between civil partnership and marriage. The couple contend that the same choice should be available to all couples.
They then took their case to the High Court, but the judge ruled that the ban on mixed-sex civil partnerships was not unlawful.
---
What do you want to know about civil partnership and marriage? Send us your question and a BBC correspondent will answer a selection.
Use this form to ask your question:
If you are reading this page on the BBC News app, you will need to visit the mobile version of the BBC website to submit your question on this topic.